With over 500 million users from more than 200 countries and territories worldwide, LinkedIn is one of the most powerful platforms for anyone looking to promote their business online.
Additionally, LinkedIn is also a home of more than 10 million business profiles which makes it most effective platform for B2B marketers.
In fact, LinkedIn is responsible for 80% lead generation through social media for B2B marketers. That's why it is the most preferred social media platform for B2B businesses.
I hope these data might have convinced you to promote your business on LinkedIn. Right?
But, let me assure you that building authority in your industry on LinkedIn can be the most time-consuming and frustrating.
So to carve the best out of LinkedIn without wasting too much time and extra efforts, you need the best set of tools in your toolbox to manage your LinkedIn profile and company pages effectively.
In this article, we're going to talk about 5 best tools and browser plugins that can assist you in boosting your social reach and building a consumer base.
Let's get started.
There are number of social media management tools that allow you to schedule posts, engage with followers and even provide performance reports.
But Oktopost has some advance LinkedIn management features that no other social media management tools have.
One of these features is it lets you search and find relevant LinkedIn groups. It even allows you to post your daily updates directly to all the groups simultaneously by tagging the groups in your post.
So you don't need to visit each relevant group to posts updates individually. It saves us lot of time. Isn't it?
Additionally, it even allows you to integrate with other marketing tools too that let you identify various details of data on your leads at every marketing stages and sales funnel.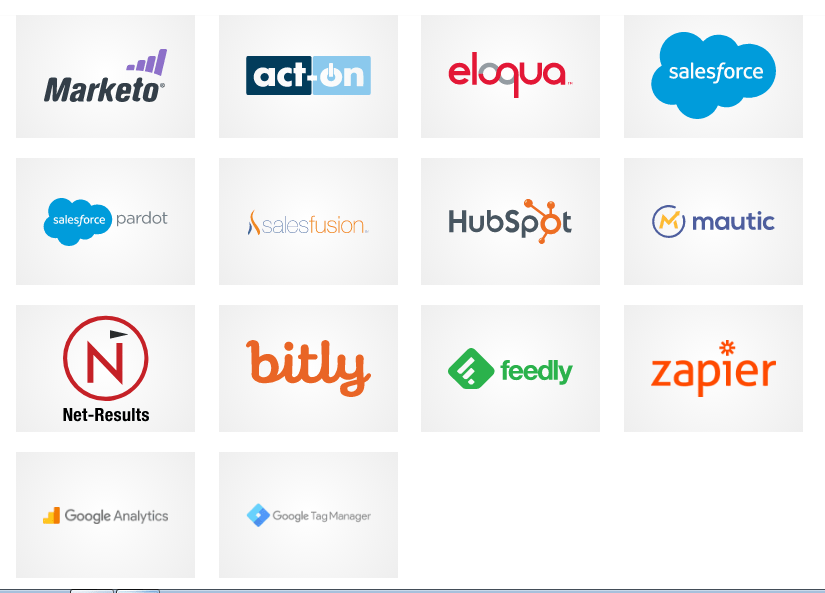 Like major social management tools, Oktopost also provide detailed analytics on your updates which helps you determine which campaign, groups and updates bring your major leads.

If you're a marketer and looking to boost your sale through LinkedIn then Sales Navigator is a great tool to give a try.
It is one of the most powerful tools offered by LinkedIn itself. Its goal is to connect buyers and sellers in all new way.
It has some amazing features that no other marketing tool has. Some of the features are as follows:
It provides you lead recommendations based on your preferences.
With its advanced search algorithm, it let you find right leads and companies.
It provides insights of marketing campaigns and about your prospects and customers.
It even offers you IOS and Android mobile app to let you stay updated with sales insights when you're on the go.
It's Firefox and Chrome extension brings LinkedIn profile information of your contacts, consumers and prospective leads directly in your Gmail. The extension appears on the right side of your Gmail account with all the available data about the sender.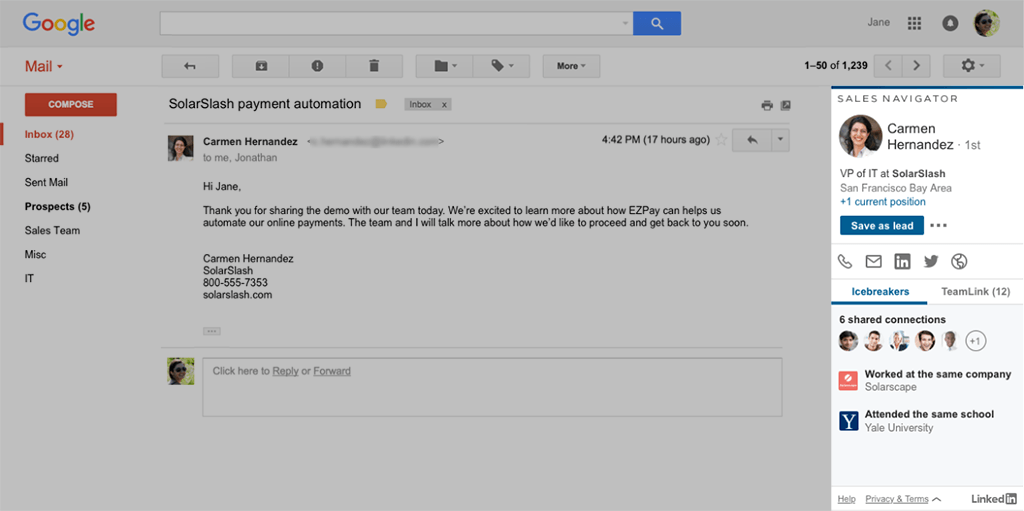 Basically, Sales Navigator is all about targeting the right buyers, understanding and engaging with them using integrated sales and relationship tools. Thus, I consider it as a great tool for the LinkedIn marketers to boost sales with lots of relevant data about prospects.

As English is not my native language, so Grammarly helps me proofread my articles and post updates to get me rid of misspelled words and grammar mistakes before making it public on LinkedIn.
So it sure does save me from public embarrassment. And I'm very grateful for it.
Basically, Grammarly is an advanced automated grammar and writing revision tool that integrates with almost all the text-box fields including WordPress, Facebook, Twitter, and even email.
The Grammarly extension for browsers can help you catch over 250 types of errors, many which are generally avoided by us.
Along with checking errors, it can also help you write better by offering synonyms and other suggestions in the context of what you're writing.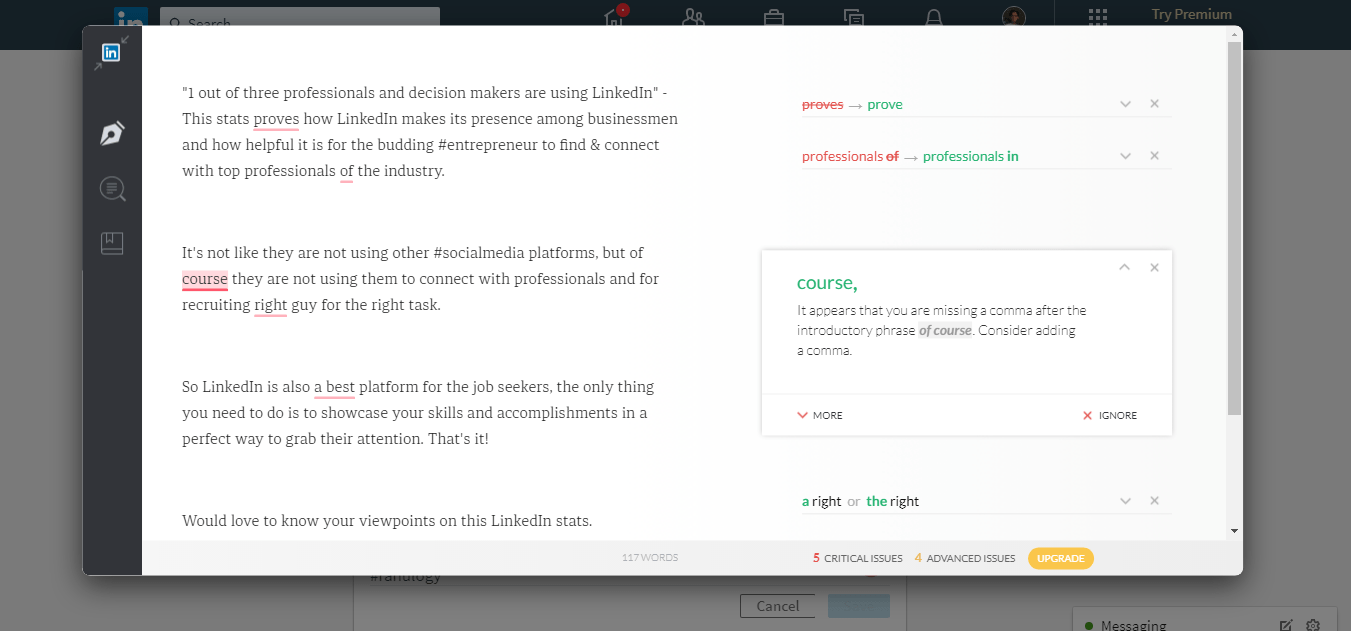 Overall, Grammarly is a great tool that can help you write mistake-free, clear and impactful LinkedIn updates and articles.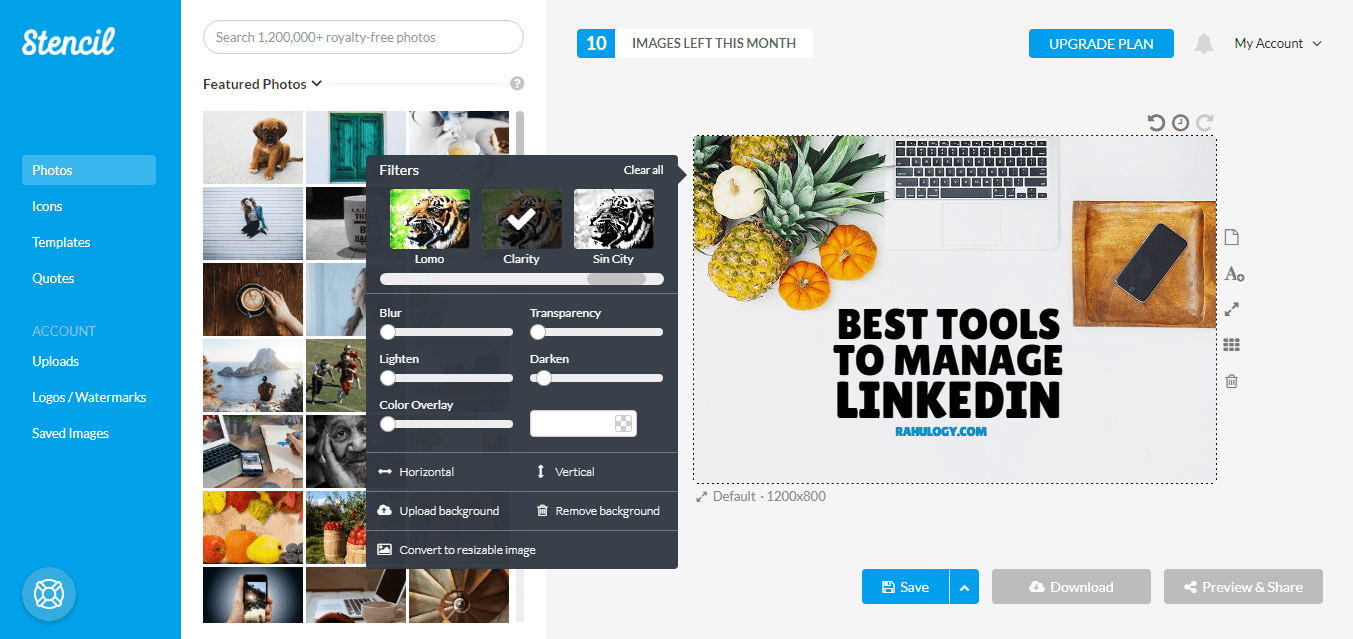 Stencil is one of my favorite image creation tools for social media posts. Its creators consider stencil as the fastest tool to create social media visuals on the web.
Within its dashboard, it gives you access to over 1,200,000 background images, templates, and graphics without any additional charges. It even allows you to share the images directly on social media.
Apart from its web app, it also has browser extension for Chrome and Firefox which let you use images and quotes from any website and convert it into beautiful graphics to share on social media.
But make sure to grab only images that are free to use for personal and commercial uses. Also, don't forget to give appropriate credit for the images.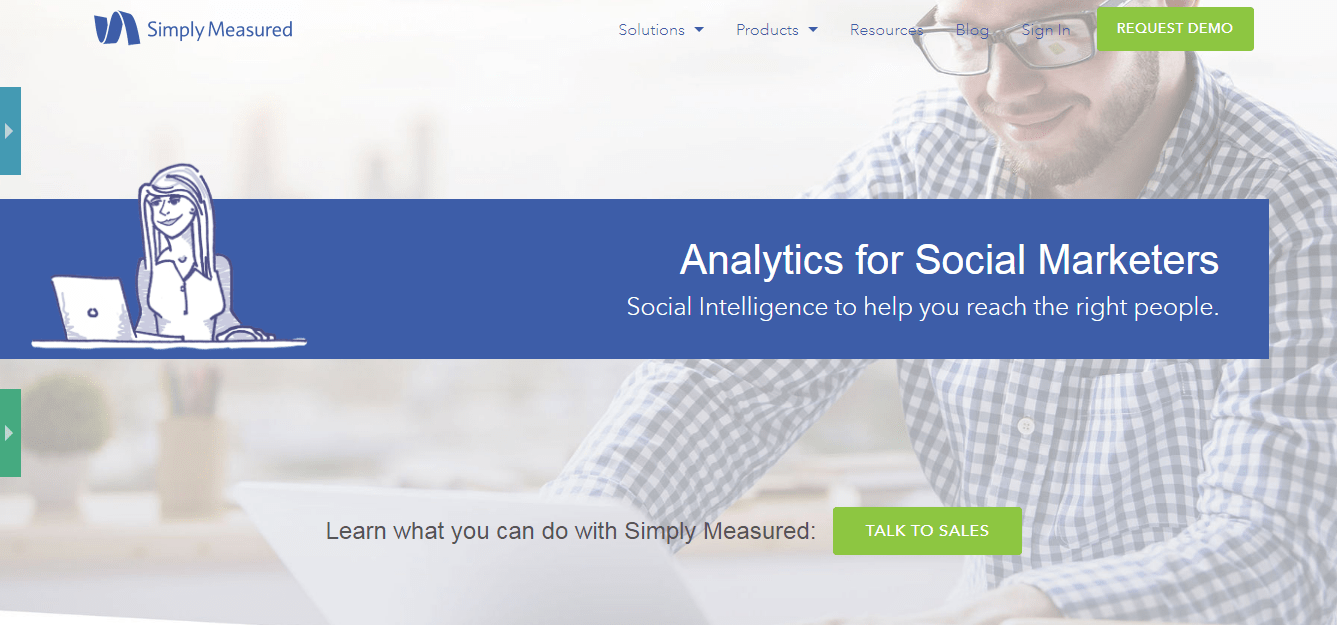 Oktopost and LinkedIn Sales Navigator provides you analytics data too, but if your audiences are from all around the web on different social media platform and websites then Simply Measured can be the best place to get started.
It lets you track the audience growth and post engagement levels on almost every social media platforms. It also provides the demographics of the influencers from your niche, so that you can reach them to establish communication.
Most importantly, it also allows you to analyze various social networks like YouTube, Google+, Tumblr, Twitter and more including LinkedIn. Such data can help you determine which platform generates you more leads and what you need to do to raise engagements on other platforms.
Few words of advice – If you're a small business with low marketing budget then I won't recommend you to go for Simply Measured along with Oktopost and LinkedIn Sales Navigator because these two tools can provide you more than enough data to grow your customer base.
Wrapping up
Try implementing these tools in your LinkedIn marketing strategy to be more effective. These tools will help you manage your LinkedIn profile, company pages, and groups efficiently.
Not every tool will be a good fit for your business. So I recommend you to choose the tools that work for your business wisely and add it to your marketing toolbox.
You can also read these helpful articles on LinkedIn:
So what are your favorite LinkedIn marketing tools? Leave a comment below in comment box and let us know.