It doesn't matter to which industry your business belongs to and what is your business all about, Instagram can't be ignored as a marketing platform.
With over 800 million users across the world, brands receive 4 times more engagement on Instagram in comparison to Facebook.
Yet Instagram is so popular and populated with a large number of audiences, numbers of small businesses still not included Instagram in their marketing strategies.
And if you're among those who don't consider Instagram as a marketing platform, I highly recommend you to read 18 Instagram Stats Every Marketer Should Know for 2018.
Now, if you've made your mind to include Instagram in your marketing strategies, here are few actionable tips to help you leverage photo sharing application to attract more consumers and clients.
6 Powerful & actionable Instagram marketing tips.
Before going further, you must understand that Instagram is a photo and short video sharing platform. And when users scroll their Instagram newsfeed, they are looking for attractive and engaging pictures and videos of animals, foods, building, sceneries etc.
So, make sure your contents are relevant to the platform.
If you're ready, let's get started.
1. Switch to a business profile.
First things first, turn your personal profile into a business profile. To do so, just go to your profile, navigate to options and tap on "Switch to Business Profile".
In order to switch to the business profile, you need a Facebook page to link. If you already have a business page, connect it to your Instagram profile else, create a new one.
Switching to business profile offer additional benefits over a personal page which you'll definitely love to know  –
You can add your contact information so that your followers can reach you directly by email, phone or address.
You get access to free Instagram analytic tools, Insights.
The business profile enables you to promote your profile by creating sponsored posts.
2.  Leverage Instagram Free analytic tools.
As mentioned above, on switching to the business profile, you get access to a powerful and free Instagram analytic tool.
An analytic tool can help you analyze the effectiveness of your marketing strategies using statistics data like impressions and reach of your posts.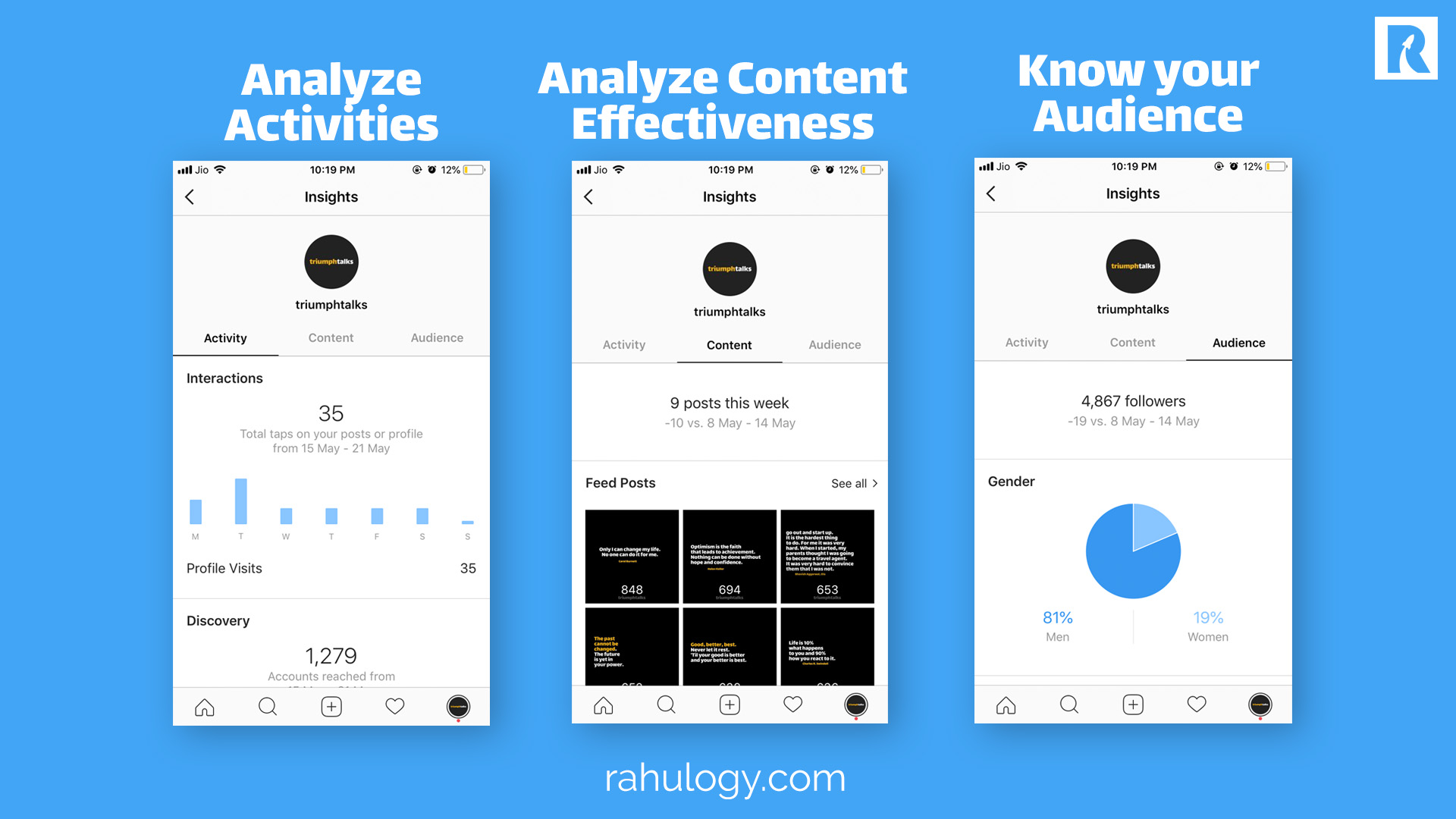 Instagram insights also break down the demographic data of your followers into location, age group, gender and active hours. This information can help you target your audience more effectively at the right time and right place.
In digital marketing, the more data you have about your target followers, the better you can strategies and create better contents to improve the results. And Instagram analytic tool can help you with it, just leverage it.
3. Create sponsored ads.
If you have enough data about your targeted audiences, you can create sponsored ads to reach those users who don't follow your page but might be interested in the products or services your offer.
It is not free, but paying a reasonable price for something that can help you grow your business is a fair deal. Isn't it?
Instagram allows you to showcase ads in various forms so that you can catch more eyes. You can use image, video, carousels, and stories as sponsored contents.
It's a good idea to create a variety of contents so that you can reach every kind of users on the platform.
4. Tell Stories-
The best way to build credibility with your audiences is by sharing behind the scene stories of the service you provide or products that you manufacture.
For example, if you run a restaurant, you can share stories of how your chef prepare dishes and how hygienic your kitchen is. This way you will promote that hygiene is on your priority list and that's what every consumer care about.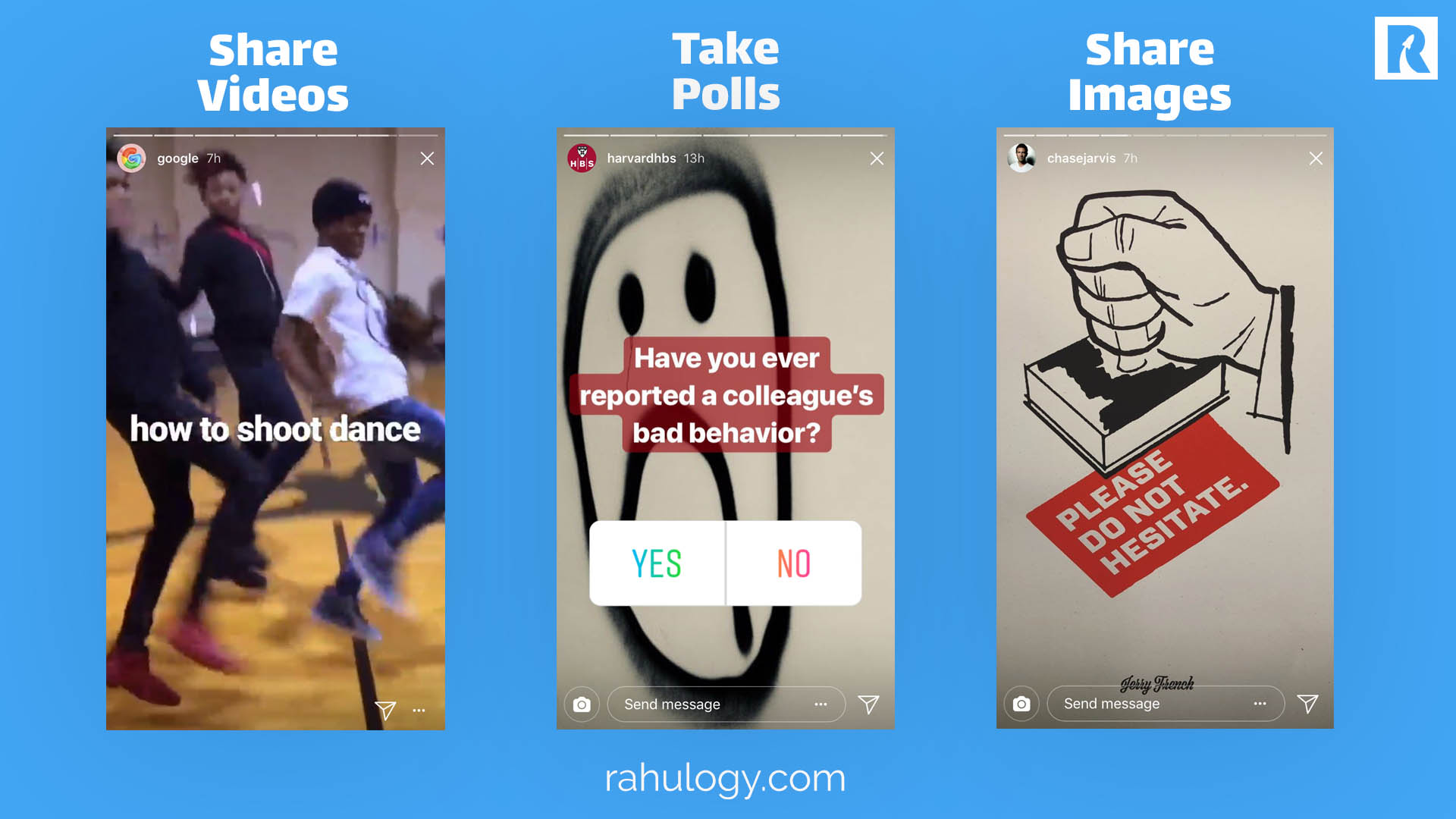 Using Instagram stories you can share such amazing tales of your business.
These stories appear on top of the newsfeed and are live for 24hrs. Also, you can highlight most interesting and popular stories which will appear above your Instagram gallery and can be accessed by your profile visitors anytime.
5. Include #hashtags
Hashtags are the lifeline of Instagram posts. It is because a post without hashtag cannot survive longer on Instagram newsfeed unless you have a huge follower base.
Hashtags can help you get more eyeballs on your posts and the more relevant your hashtags are, the more engaging and genuine follower base you'll create.
Instagram allows you to use at most 30 hashtags on each post and I recommend you to fill the space with content relevant hashtags only. So, include hashtags which are relevant to your industry and the hashtags that your target audiences are searching for.
6. Collaborate with Influencers
Whether it's establishing a business or growing business from scratch, collaboration with industry leaders and influencers can help you build credibility among your potential clients and consumers easily.
Similarly, if you're growing a follower base on Instagram from nothing, collaborating with brands or personalities who have already built a huge follower base can help you attract followers to your page too.
Also, people like to use products based on what influential people recommends. So, if you partner with them to talk about your products and services on their Instagram posts then most probably, their followers would like to try your products too. This way you can spread the awareness about your brand easily among your targeted audiences.
Wrapping Up.
Instagram is a powerful platform to grow your brand awareness among 800M+ users from over 200 countries.
I personally don't find any reason to ignore Instagram in marketing campaigns. However, if you've any reason to exclude Instagram from your marketing strategies let us know via comments below.
I hope this blog will help you grow your brand on Instagram. If so, do share this post with your friends and colleagues.