It doesn't matter in which industry you are in and what is your business all about, you shouldn't try to spread your presence on every social platform available out there.
By doing so, you can be available on every social site but will not be able to create strong presence anywhere on the web.
The same rule applies to restaurant and bar business. In order to reach your prospective consumers, you should focus only on the platform where people are interested in the kind of products and services you offer.
Best social media sites for restaurant businesses.
In this blog post, I will share a list of best social sites that I recommend every restaurant and bar owners for social media marketing.
Before getting started, I want you to listen to this Audio blog on the best social site to market restaurants in India. Also, don't forget to subscribe to the podcast by navigating to the links below.

Subscribe: Apple Podcast | SoundCloud | Stitcher
So, let's begin with the most populated and popular social platform in India.
1. Facebook.
Even though many social media pundits consider Facebook as a dying platform for marketing, I still place Facebook among one of the best platforms to reach your target audience.
It's true that Facebook advertising is getting expensive day-by-day and organic reach is nearly negligible on this very platform.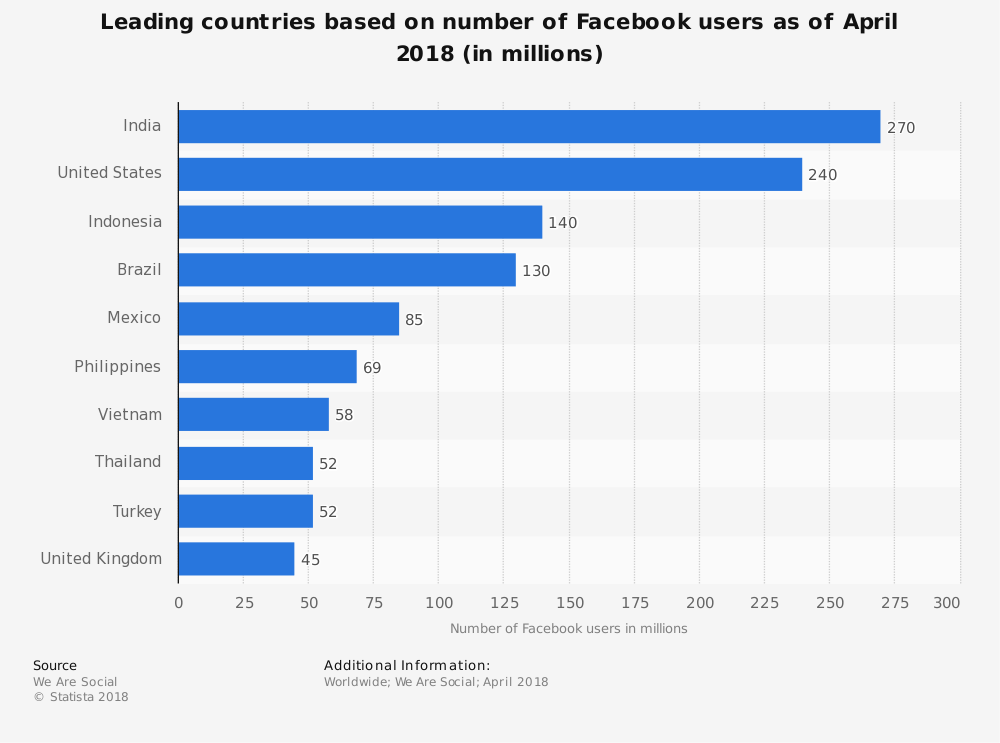 But still, it is a most populated social media platform with over 800 million worldwide users among which India ranks highest with 270M+ users who are looking for contents like yours.
So, you've millions of eyes to witness your contents on this platform. But the most important question is how you can leverage this platform to drive more consumers to your restaurant, right?
Well, let me assure you that Facebook marketing isn't a rocket science. You just need to be strategic and consistent with your contents and eventually, you will be attracting a number of potential consumers to your restaurant pages.
Also, Facebook offers you a powerful analytic tool to help you understand your target audience and measure the results of your marketing efforts.
Using Facebook insights you can collect demographic data about your target audience that can help you choose effective keywords for Facebook advertisements. This way you can reach your potential consumers at the best time of the day with better contents that they might like.
2. Instagram.
The way you present your dishes on the table matters most because people eat with their eyes first.
And if you can satisfy their hunger with the look and feel of your dishes, there's a high chance that you made their stomach happy too.
However, you can't serve your dishes on social media to feed your audience but you can definitely share compelling images of your dishes to make them drive to your restaurant.
And there's no platform better than Instagram to showcase the pictures of your dishes to the users who are already scrolling their feeds to find attention-grabbing images like yours.
Instagram is one of the most popular social media sites among youth because as per Statista, over 50% of users belong to the 18-35 age group.
So, if your target audiences are young, adventurous, foodies and energetic then it is a high time to include Instagram in your marketing strategy.
To leverage Instagram, first of all, switch to business profile because this way you will get access to the powerful Instagram analytic tool. Also, you will be able to add your contact info on your profile.
In addition, hashtags are a vital part of Instagram marketing as these hashtags enhance the lifetime of your posts on the Instagram newsfeed. So, always include relevant hashtags on your posts to catch few extra eyeballs.
Wrapping up.
There's no doubt that Facebook and Instagram are powerful platforms to promote your restaurant and communicate with your potential consumers. And there are other social platforms like Twitter, Pinterest, LinkedIn, Tumblr and many more which are either not so popular in India or are not suitable for the restaurant business.
So, always pick the platform to market your business where your target audiences are already available. And to do so, first understand your consumers.
I hope this article will be helpful in picking the best social platform to market your restaurant. If so, please do share this blog with your fellow restaurant owners.
So, how do you market your restaurant on digital platforms? Do let us know via comments below.