Do you want to create a compelling and professional LinkedIn profile?
If so, what does intimidate you from improving your profile? I assume you may not figure out where to start.
So, I've worked hard for you to figure out the best practices you want to fill each section of your LinkedIn profile to make it look more compelling and professional.
If you're ready, let's start from the very first thing on your profile.
1. Background Photo.
It is the most neglected feature of LinkedIn but it is one of the most important sections of your profile.
Background photo is the first thing that catches the attention of your profile viewers so it must convey your vision and profession.
2. Profile Photo.
LinkedIn is a platform for the professionals, so it is not a place for an avatar or full body shots.
However, the space is too small for the full body shots so there's no reason to use it and avatar shows that you're not authentic and want to hide something.
Your profile photo should reflect the real YOU and must be professionally taken.
While creating a profile photo consider these best practices:
Photo should be recent and clear.
Minimal and plain background.
Headshot.
3. Name.
LinkedIn is not a place to put your nickname, a business name or whatever others call you.
Keep it simple and real. Before connecting with you, people want to know that you're a genuine person first and foremost.
4. Headline.
Your headline should be the most impressive section of your profile because it is one of the few things what people will see under your name in search results.
So adding your current position and the company name is not going to work. In fact, it is not correct either.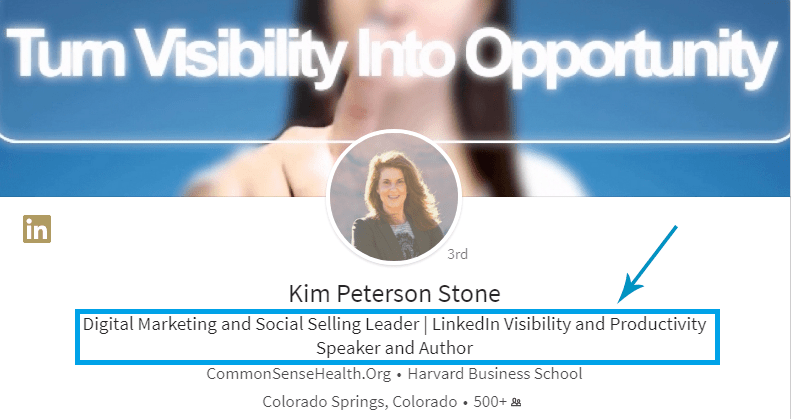 You want your headline to be catchy and attention-grabbing, so you need to add something impressive about your skills and profession.
Consider these best practices while creating your headline:
Showcase your specialty.
Be specific and creative.
Make it keyword rich (Avoid keyword stuffing).
5. Summary
A LinkedIn summary is an important section within your profile because it is the first place where people like to read after you've grabbed their attention with your headline and profile photo.
It is a place where you want to share your story as a working person and tell others how you want to be seen professionally.
Everyone likes a good story, so instead of sharing only the problems you faced throughout your career, focus on sharing your achievements and experiences that make you feel proud.
Okay, you may wonder from where to start. So here you've three stages to write your summary –
Firstly, share how you stepped into current profession.
Then share what has led you to your current position.
Finally, share where you want to see yourself in near future.
And make sure that in each section you share your key achievements, awards and honors as it provide strength to your claims about yourself. But, don't exaggerate yourself and just be true to yourself and your viewers because it the ultimate way to gain trust of people out there.
6. Work experience.
The objective of the work experience section in your LinkedIn profile is to showcase your past and current positions. It is organized in chronological order with current position on the top.
Depending on your age, career level and frequency of your job changes, you might have more or less entries in this section.
And one thing I highly recommend is to remove all those work experience which are no more relevant to your current profession as it may create ambiguity among the viewers about your profession.
While adding a work experience to your profile, consider these best practices –
Always link your job to the company page on LinkedIn.
Add specific job title.
Add description to each work experience.
Use keywords in your description.
7. Education
Your education section says a lot about you, especially to the potential employer and your former classmates who are looking for you to reconnect.
But I don't think there's anyone who cares about your kindergarten and junior schools. So I won't recommend you to add such schools mainly to fill the sections.
Keep it professional with the schools/colleges/universities which really matters and relate your profession.
While adding a school name in your education section, consider these tips –
Enter any extracurricular activities you participated while attending that school/college in Activities and Societies text box.
Enter any awards or honors you received from the school/college in Description
Add rich media such as photo, video, link or documents to showcase your proud moments while attending that school.
8. Volunteer Experience.
Your LinkedIn profile should reflect that you're more than a corporate creature.
And the volunteer section is where you can add the causes you care about and support apart from the corporate stuffs.
You can add the organization, your role, the cause it supports, dates of your tenure and a description about the event and the role you played.
Showing your care and support for social welfare, environment and other causes on LinkedIn profile proves that you're a social being too which your profile visitors may find interesting and impressive too.
9. Skills & Endorsements.
Skills and endorsements section is where you showcase your skills and get endorsed by others who loved your work related to the skills you added.
You want your skill section to tell others who you are and what you can do. Also include keywords that make you more searchable.
These are the best practices that you can consider while adding skills to this section-
Don't add common skills like Microsoft word, paint…etc.
Add industry relevant skills.
Reorder the lists such that the most important skills are on the top.
And if you think endorsements don't really matters, you must change your opinions because they do matter.
Endorsements on your skills provides social proof that how skilled and expert you are in the respective skills.
To get endorsements, you need to ask people to endorse your skills. In fact, you can even endorse others to get endorsed back for your skills.
10. Recommendation.
The list of recommendations from senior officials and clients on your profile affirming your skills and work styles will enhance your profile and provide a social authenticity to claim your expertise to others.
Including recommendations on your profile can even increase your chances to be contacted by potential professional parties and may even secure an interview with them.
In order to get recommendations, you need to ask people to give you recommendations. Moreover the best way to get recommendations is by recommending others and you can even request a recommendation from the people with whom you have worked earlier.
11. Accomplishments:
LinkedIn offers you to add accomplishments in 9 different sections. These are-
Certification: Add any certificates you earned related to your current profession.
Course: Add the list of all the courses you took to learn different skills.
Honor and awards: Showcase all the honors and awards you earned till date.
Language: Let the profile visitor know which languages you know. You can even add the proficiency level of the entered languages.
Patent: Do you've any patent rights? If so, it is the best place to show the patents you own. Don't forget to add the description about the respective patents.
Project: Ever been a part of any projects? Add the list of all the projects you were part of with the complete details and description about the respective projects.
Publication: Ever published a book or article on famous websites? Just add the title of the book or article, publisher name, date, URL and description in publication section to let others know your work.
Test Score: Appeared in any competitive examinations? If so, enter the test name, marks scored, date and the description about the examination.
Organization: Are you a part of any non-profit organization or ever been? Add the organization name, your position, date of tenure and description about the organization.
It is the place where you can showcase your all the hard-earned accomplishments till date to the potential professionals and visitors. But, please don't over exaggerate yourself in order to stand unique among others.
12. Interests:
It is under additional information section of your LinkedIn profile which comprises of all the influencers and companies you follow and LinkedIn groups you've joined.
The interest allows you to connect with your visitors to a deeper and more personal level as it resembles that you've a life outside of corporate world too which actually make people feel more comfortable to establish communication.
The influencers, companies and the group you choose should be related to your niche as it will create a better environment for the target market to establish connection with you.
Unlike other social media platforms, LinkedIn is a platform for professional networking so your profile need to be polished such that it reflects your profession and can grab the attention of potential employers.
Now it's your turn to create a most compelling and professional LinkedIn profile with the help of the best practices discussed above for each and every sections of your profile.
Here are few Handpicked articles on LinkedIn that you must read next: